If you told me 4 years ago that I would have breastfed a 4 year old, a 2 year old and a now 10 month old, I would have told you that you were out of your mind and probably laughed at you. Most people think that I am crazy and most people think that I have the strength of a lion. I honestly don't know how I did it and how I am still doing it, but I always get through it.
When I started breastfeeding, I didn't know anyone close to me or in my family who did. I basically had to educate myself. I took breastfeeding classes, did a lot of online research and I joined breastfeeding groups on Facebook to learn more about it so that I can be successful in my journey. Four years later, I am still learning new information.
I didn't know a lot when I was breastfeeding my 4 year old and 2 year old daughters, but somehow I got through it. I breastfed and supplemented with formula with my first and I exclusively breastfed my second. I am also breastfeeding my 10 month old son, exclusively.
I am going to talk about my breastfeeding journey with my son since it has been the hardest. When I had my son, he was born with low blood sugar at 5lbs 15oz, and we had to spend extra days in the hospital. So to see my son striving and growing off my breast milk alone brings me so much joy.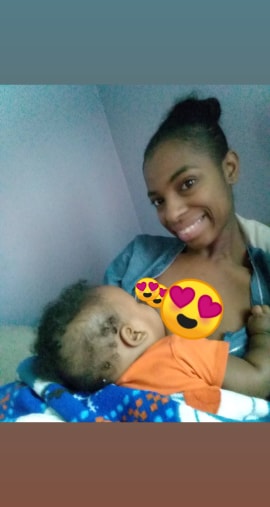 When leaving the hospital and going home, I didn't know what was to come with having 2 toddlers and a newborn. I was at home most of the time by myself with the kids because my husband was at work about half the day. I ended up being diagnosed with postpartum depression and anxiety and I was put on depression meds. I wanted to give up so bad on breastfeeding Jaden because I was constantly chasing 2 toddlers around while trying to cook and constantly cleaning because well, I have 2 toddlers. I was literally a walking zombie. My OBGYN didn't know how I made it through a month with barely ANY sleep. Life at the moment wasn't worth it. I was at my worse but I made it through and I didn't give up on breastfeeding.
Another hard time was when my baby had to spend several days in the PICU because he had RSV. I brought in the New Year in PICU with my son. When we got there he couldn't eat because of how weak his body was and he was on oxygen and so much more. I had to pump every 2 hours for several days which was so hard because I strongly dislike pumping. In the middle of the next day, he was able to eat through a feeding tube so I was constantly pumping and crying. I was so frustrated just seeing my son struggle. I didn't want to breastfeed anymore. I almost told them to just give him formula because I was tired, my body was tired. I was at my worse but I made it through and I didn't give up on pumping.
I absolutely love breastfeeding because of the bond I created with my son and the benefits that are available for both of us. However, breastfeeding has taken a toll on me, on my body and my self confidence. Breastfeeding has made me lose a lot of weight and it has increased my appetite times
1000 seriously lol. I am ALWAYS hungry and thirsty but I have a fast metabolism so I still don't gain much weight. People don't know that burning a large number of calories is a "benefit" of breastfeeding. For some women it's a benefit but not for me. I've always been small but people body shame me. They tell me I need to eat and how I've gotten smaller and how I need to gain weight and they don't even know the half. I don't like being so small but it's just something I have to deal with because I'm not giving up on breastfeeding.
I've dedicated my body to my children for 4 years and I am ready to claim my body back as mine. I am ready to pick out clothes without having to determine will Jaden have easy access to nurse, I am ready to be done with pumping and washing pumping parts everyday and I am ready to no longer feel like a 24/7 milk only restaurant.
But with each new beautiful journey breastfeeding has given me, I will miss being the sole lifeline for my son, soothing him by nursing, him being curled up in my lap while he nurses ( even him doing gymnastics lol) and producing food from my body just for him.
I know each day that passes, it's one day closer to the end of our journey and also one day less that I will get to share this type of bond with my Jaden. All 3 of my breastfeeding journeys are equally beautiful and difficult in their own way but they are ones I will never forget. It's all worth it in the end! I'm blessed!
Thank you to my husband for always being by my side through my journey and always encouraging me.
Thank you A'Ari, Alaya and Jaden for giving me this experience.